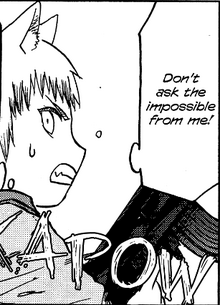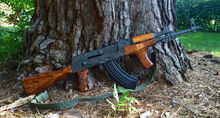 In FictionEdit
AppearanceEdit
With short blonde hair her overall appearance is similar to the other Kalashnikov variants as she herself is an AKM clone with the only distinct difference being the wooden forward grip built into the hand guard.
PersonalityEdit
While she only made a brief appearance in the Upotte!! manga, AIM has shown herself to have a good sense of tactical awareness and command ability while trying to juggle orders from PKM. Although she would not be considered a tactical genius since she was led into an ambush by Alpha Team of Seishou in the battle of Hakone.
In Real LifeEdit
Variants of Russia's new AKM rifle were put into production across the Warsaw Pact nations relatively quickly after it's introduction in 1958. Romania, however, lagged behind and needed the help of Russian firearm technicians and engineers to develop the tooling required for the AKM.
Once the tooling and design were finished the first Romanian domestically produced AKMs rolled out of the factories in 1963 and was thus termed the Pistol Mitralieră model 1963 or PM md. 63 for short. It's export name for selling to other countries would be the Romanian AIM.
Later on an under-folding model was produced and was dubbed the Pistol Mitralieră model 1965 or PM md. 65 for short, with its export name being the Romanian AIMS.
These rifles enjoyed a long service life from 1963-1986 until ti was replaced by the PM md. 86 for main Romanian service. While not in Romanian service currently, the PM md. 63 is used by a variaty of nations police forces and military forces as it is inexpensive to purchase and maintain.
PerformanceEdit
While basically being a copy of the Russian AKM, the addition of the colloquially called "wooden dingus" in the hand guard adds a point of stability for accurate and precise automatic fire when compared to most other AKM variants fielded by the nations of the Warsaw Pact.
Afghanistan
Angola
Azerbaijan
Bangladesh:
Small numbers in Bangladesh Army
Benin:
Used by peacekeepers in Congo
Democratic Republic of the Congo
El Salvador:
National Police of El Salvador
Georgia
Ghana
India
Iraq:
Iraqi National Army
Iraqi National Police
Iran
Israel:
Used by Police [Captured by Rebels]
Liberia
Lebanon
Libya
Mauritania:
Peacekeepers in Ivory Coast
Mozambique
Moldova:
Moldavian Army
Moldavian National Police
Morocco
Nicaragua:
Nicaraguan Armed Forces
Nicaraguan National Police
Nigeria:
Romania:
Border Guards
Navy
Reserve Troops
Rwanda
Sahrawi Arab Democratic Republic
Saudi Arabia
South Sudan
Syrua
Uganda
AvailabilityEdit
If you live in the States, your best bet is to pick up a PM md. 63 parts kit from various sites and having someone build it for you or building it yourself with an AKM style receiver. These rifles should run you less than 700-800 USD. In Canuckland, this is a prohibited firearm and can not be owned without a special license. An acceptable, and less expensive way to get one is to take a WSAR-10/63 and give it the proper wooden furniture, and it has to be a WSAR-10/63 because it is the closest to an actual PM md. 63 with the only difference being the full-auto capability.
Community content is available under
CC-BY-SA
unless otherwise noted.