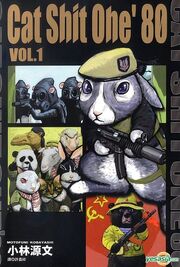 Work on all Cat Shit One '80 materials goes here.
This page is for assisting /ak/ translators as they work by centralizing completed parts of the scanlation process. Material doesn't always go through the complete scanlation process in one thread and schedules don't always sync, so it may sometimes be convenient to have somewhere to leave incomplete portions of the process.
How it works
Edit
Finalize your piece of work (examine grammar and spelling for translation, clean quality for cleaned scans, etc.) to ensure your work is quality
Zip it up, making sure to name the file descriptively, and post it here
Check here for other's work so you can continue the next steps
Got a finished chapter? Great! Please email it to the archive manager so it can be added to the main /ak/ Mediafire.
Cat Shit One '80
Edit
cleaned scans
Edit
translations
Edit
partial typesetting
Edit
Community content is available under
CC-BY-SA
unless otherwise noted.