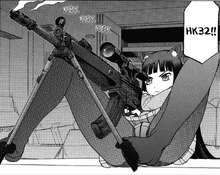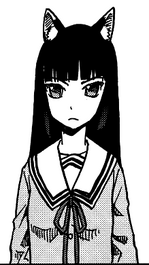 In FictionEdit
AppearanceEdit
Her appearance is close to that of G3A3 with the long black hair and darker eyes with black pantyhose, which is from her black polymer furniture on the rifle. She does, however, wear the standard Akaganekou uniform with two stripes since she has sided with them and is a 7.62 rifle that is of Non-Russian origin. She has cat ears, which is standard being that she uses a eastern bloc caliber, but she lacks a tail like most eastern block rifles.
PersonalityEdit
HK32 is a complex character, that has to deal with a mixture of abandonment issues and a large inferiority complex while being caught up in the war between Seishou and Akaganekou. HK 32 struggles to prove herself as the best sniper in the HK family and will jump at the chance to take on someone else in the HK family, such as G3A3 or HK33E, to show them that she is the top rifle. She feels the need to prove herself so much as she is the oft forgotten rifle since she was never adopted by anyone nor picked up by another company. Although she has a rivalry strong enough for her to join Akaganekou so that she can prove herself against her sisters, she still deeply cares for them, so much so that when PSL explained what happened to G3A3 and the HK family that was living in the dorm she broke down crying for her hurt sisters. It may have affected her deeply enough that she has been sidelined as she has not been seen since the breakdown.
In Real LifeEdit
After manufacturing the G3 rifle for the Bundeswher of the Federal Republic of German, Heckler & Koch decided to produce a scaled down G3 for market to the eastern bloc countries, in particular the German Democratic Republic. The results of this was the HK 32, and while considered a good rifle performance wise, it was rejected as it took a proprietary magazine and was expensive to produce in comparison to the AKM variants available to the eastern bloc. HK went back to the drawing board and made two more variations of the HK 32, one that took AK magazines and another that also took AK magazines but was a short barrel version with collapsible stock known as the HK32K. These again were rejected because, again while they were considered good performance wise, they were just not as cost effective as the AKM variants in the eastern bloc. However the lessons learnt with the HK32 by Heckler & Koch were later used in the creation of the HK33.
Performance Edit
The HK 32 is heavier than a standard AKM style rifle while still firing the same round, meaning that the recoil impulse is smaller while firing giving greater accuracy to successive shots. Having a roller delayed blow-back also gives the rifle increased reliability and durability.
There are no official users for the HK 32 and there were no official users in the past either. However, there were some rumors floating around that the Mexican police had a few in their stocks from HK production samples sent there when they got HK tooling.
Availability Edit
If you just want a Roller delayed blow-back rifle that is in 7.62x39mm then you can pick up a PTR-32 which is built on HK tooling that was bought from Portugal. However, there are a good number of differences between the two. For starters the PTR-32 weighs in a 9.3 lbs versus the HK-32's 8.8 lbs. The barrels are different as well as the HK 32 had a 1-in-12 twist where the PTR-32 has 1-in-10 twist to it , and finally the overall length of the rifle is 38.5 inches versus the 36.1 inches of the HK 32. It is unknown if a true clone will be made of HK 32 but if you really want a rifle like it, you will have to settle for a PTR-32 for the time being.
Community content is available under
CC-BY-SA
unless otherwise noted.