The Military Armament Corporation Model 10, officially abbreviated as "M10" or "M-10", and more commonly known as the MAC-10, is a compact, blowback operated machine pistol that was developed by Gordon B. Ingram in 1964. It is chambered in either .45 ACP or 9mm. MAC-10 attends Seishou Elementary School.
In FictionEdit
A loud, top-heavy loli.
AppearanceEdit
She is apparently quite stacked ( . Y . ). This reflects how the real-life M10 is a top-heavy gun and, therefore, it is tiring to handle for long. A big-boobed little girl (with pigtails!).
PersonalityEdit
M-10 is a well-known motormouth, which is a reference to her ridiculous rate of fire. However, she abruptly falls silent when she runs out of bullets.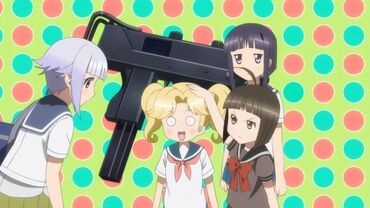 She is also a nice girl who just wants her friends to get along.
In Real lifeEdit
A machine pistol developed in 1964 chambered in either caliber 45.ACP or 9x19mm. The term "MAC-10" is commonly used, but it is not actually official; the Military Armament Corporation never used the nomenclature MAC-10.
The original rate of fire for the M10 in .45 is approximately 1090 rounds per minute. That of the 9mm M11/9 is approximately 1250 rounds per minute, and that of the smaller MAC-11 in .380 ACP is 1380 rounds per minute. Noting the weapon's poor precision, in the 1970s International Association of Police Chiefs weapons researcher David Steele described the MAC series as "fit only for combat in a phone booth".
(source: wikipedia)
PerformanceEdit
Really heavy and wastes to much ammo due to the high rate of fire. The high rate of fire is the result of the lightweight bolt. The gun can also use M3 magazines (if modified).
The MAC-10 is a relatively cheap submachinegun and is preferred by criminal gangs around the world for its low cost and concealability.
Community content is available under
CC-BY-SA
unless otherwise noted.