Yes Goyim, our rifle is the best in the world.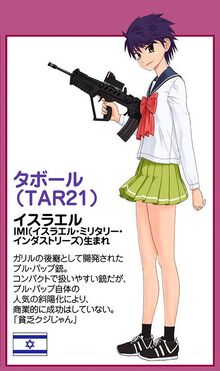 Was a no show in Anime. Got dealt by the Finnish Elf.
Part of the Charlie Team in Hakone ark in Manga, starting from chapter 74, has short unruly hair.
The Goyim were making bullpups that made the rifle overall more compact, so the Jews with "Muh Dismount Times" ditched the Galil rifle (even though there were way more M4's and supposedly it is still in service). Many shekels were had to make the Tavor rifle "the best" rifle, to the point that the United States, NRA "American Rifleman" made it 2014 "Golden Bullseye" rifle of the year.
The reviews from the Israeli soldiers were, "the TAR-21 was found to be significantly more accurate and reliable (as well as more comfortable) than the M4 carbine during extensive field testing". Which is funny because, "but the battle proven and widely issued M4A3 rifle and its variants will remain in service for some time to come". Also In November 2009, the IDF announced that the Micro Tavor (MTAR-21), rather than the TAR-21, would become the standard infantry weapon of the IDF, "with the addition of an integrated grenade-launcher". [spoiler] There were no grenade launchers [/spoiler]
As of 2013, a MTAR-21 with a 15 inch barrel that is a bullpup will now be the next infantry front line service rifle of the IDF, while the TAR-21 would be the reserve rifle. Maybe it was because the TAR-21 was almost the same length of the M4 carbine, or that it actually weighed almost a pound more than the M4. M-m-muh Dismount Times...
Operators [Source Wikipedia]
Performance
Edit
The Tar 21's maximum effective range is 500 meters. [Citation Needed] -Wikipedia
Community content is available under
CC-BY-SA
unless otherwise noted.