We're Getting Mutants in the MCU - The Loop
Play Sound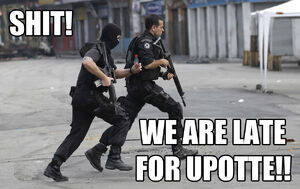 Work on all Upotte!! materials (manga, Nano, Rufuira, LN, raws, etc.) goes here.
This page is for assisting /ak/ translators as they work by centralizing completed parts of the scanlation process. Material doesn't always go through the complete scanlation process in one thread and schedules don't always sync, so it may sometimes be convenient to have somewhere to leave incomplete portions of the process.
Upotte!!
[
]
Raws
[
]
All raw links were removed, read here for more information.
Translations
[
]
Previous releases
[
]
Chapters done by animexis. Reuploaded for convenience.
Typeset chapters
[
]
Misc Extras - Author afterword for Vols 1-2 (not translated in Animexis' release) and 3 , Vol 1 Q&A,Vol 2 Omake (Elle-chan and me), Vol 3 Omake, Various color pages and comics from the tankobon's dust jacket.
Volume 5 (The compiled volume also included four Upotte!! nano chapters)
Volume 6 (The compiled volume 6 also includes some Upotte!! nano chapters and FA-MAS debut)
Volume 7 (starts on #49)
Volume 8
Volume 9
Volume 10
Volume 11
Volume 12
Volume 13
Upotte SISTERS!!
[
]
Typeset chapters (SISTERS)
[
]
Nano
[
]
translations
[
]
Typeset chapters (nano)
[
]
Rufuira / Other Doujinshi
[
]
cleaned scans
[
]
translations
[
]
partial typesetting
[
]
LN
[
]
cleaned scans
[
]
translations
[
]
Cover: done
Chapter 1: n/a
Chapter 2: n/a
Chapter 3: n/a
Chapter 4: n/a
Chapter5: n/a
Afterword: done
4-koma: done, includet with raws
partial typesetting
[
]