We're Getting Mutants in the MCU - The Loop
Play Sound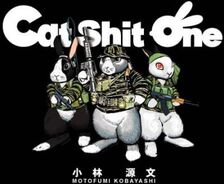 This page is for most of the works relating to Motofumi Kobayashi, known best for his historical drama series Cat Shit One. The original Cat Shit One series (set during the Vietnam War) was licensed in the U.S and is unavailable here, while the Cat Shit One '80s spin-off (set during the, you guessed it, 1980's) has it's own page for the time being.
Many of his works are heavily involved with World War II military history such as Operation Barbarossa and historical biographies of Michael Whittmann and Jochen Peiper. Many of his works also dive into alternate reality scenarios such as a theoretical invasion of Japan by the Soviet Union during the Cold War.
List of Works
[
]
(Pulled from Wikipedia, only the ones concerning manga works)
Works about WWII:
The black knight story (黒騎士物語), 1985 - Scanlated by Hox Scans
Panzer Vor! (パンツァーフォー!), 1986
Panzergrenadier (装甲擲弾兵), 1987
Panzer krieg (パンツァークリーク), 1988
Death of the steel (鋼鉄の死神), 1989 - The biography of Michael Wittmann.
Warrior in Flames -Jochen Peiper (炎の騎士 ヨーヘン・パイパー戦記), 1990 - The biography of Jochen Peiper.
Kampfgruppe Zbv (カンプグルッペZbv), 1993 - Available in Spanish from Glénat.
Happy tiger (ハッピータイガー), 1993
Japanisch Frw. Bataillon der Waffen SS (東亜総統特務隊), 1995. - 'Japanese foreign legion of the Waffen-SS.' It's a comedy.
Unternehmen Barbarossa (バルバロッサ作戦), 2001. - Operation Barbarossa - Available in Spanish from Glénat.
Unternehmen Taifun (タイフーン作戦), 2002. - Operation Typhoon
Unternehmen Blau (ブラウ作戦), 2003. - Operation Blue
Unternehmen Zitadelle (ツィタデル作戦), 2005. - Operation Zitadelle
Deutschland Afrika Korps (アフリカ軍団), 2006. - Afrika Korps and the biography of Erwin Rommel.
Samland 1945 (ザームラント1945), 2007. - Battle of Sambia.
Works about Vietnam War:
Apocalypse Meow (Cat Shit One/キャットシットワン), 1998
Vietnam war (ヴェトナムウォー), 1999 - Available in Spanish from Glénat.
Alternate history:
Battle over Hokkaidō (バトルオーバー北海道), 1989 - This is the story that JSDF fights against the Soviet army in Hokkaidō.
Raid on Tokyo/Tokyo wars (トウキョウウォーズ), 1991 - This is the story that JSDF fights against the Soviet army in Tokyo and Niigata.
Korean war II (第2次朝鮮戦争 ユギオII), 1996
Samurai soldier (サムライ・ソルジャー), 1999
Omega 7 (オメガ7), 2002 - Available in Spanish from Glénat.
Omega J (オメガJ), 2003
Scanlation Area
[
]
Current files on hand:
Battle over Hokkaido (incomplete set)
Tokyo Wars
Panzergrenadier
Second Korean War
Vietnam War
Links
[
]
N/A